Virtual Private Networks (VPNs) are fast becoming indispensable to evade data-gathering, but have you ever wondered exactly how many people use VPNs these days?
Answering such questions has become simpler than in the past because big data has exponentially expanded access to internet traffic data.1
Additionally, the sophistication of that data has equally increased, giving us detailed demographics and other specific data, that can help us get a handle on VPN usage.
This guide explores how many people use VPNs and the adoption statistics from a variety of areas and countries.
Who Uses VPN: VPN Usage Statistics in 2023
VPNs today are increasingly well-known tools for adding security and anonymity when using public networks. Their usage is only increasing, however, the nature of that use is shifting.
So, exactly who uses VPN? According to a Forbes report,2 personal use of VPNs now beats out business use.
VPNs are used more for personal security and privacy.
In addition, VPNs are used in a myriad of devices, ranging anywhere from desktops, laptops, and smartphones to routers, TVs, tablets, and anything in between. Basically, any common device that people use to access the internet a VPN might be employed.
It is curious to note that the fastest-growing usage of VPNs is in the Middle East (more on that later).
Half of the world's VPN users use a free VPN service, even though these services suffer serious routine security breaches, not to mention that they regularly sell customer info to the highest bidder. It's the price you pay for using the system free.
Why Are People Using VPNs?
While someone involved in security work most likely uses a VPN, why the average person or business uses a VPN is an interesting question. Some people may be using them for personal purposes, while others may be using them for more official reasons.
VPN Users Reasons
According to a Forbes survey,3 the main reason people use VPNs is because of security concerns. This can be further broken down to the following reasons: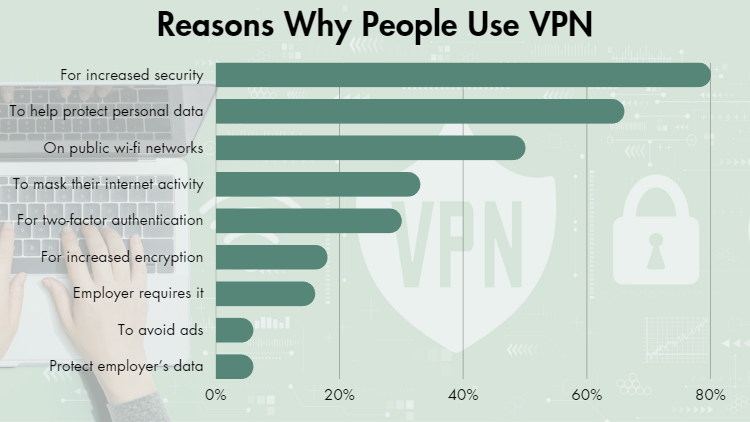 | | |
| --- | --- |
| Percentage | Reasons |
| 80% | For increased security |
| 66% | To help protect personal data |
| 50% | On public Wi-Fi networks |
| 33% | To mask their internet activity |
| 30% | For two-factor authentication |
| 18% | For increased encryption |
| 16% | Employer requires it |
| 6% | To avoid ads |
| 6% | Protect employer's data |
Research performed by Security.org suggests that roughly half of VPN users utilize a VPN for the general purpose of security, while about 40% use VPNs for privacy.4
Yet another third of respondents surveyed suggested they use VPNs mainly to avoid the risks associated with using public wifi. The table below summarizes these findings: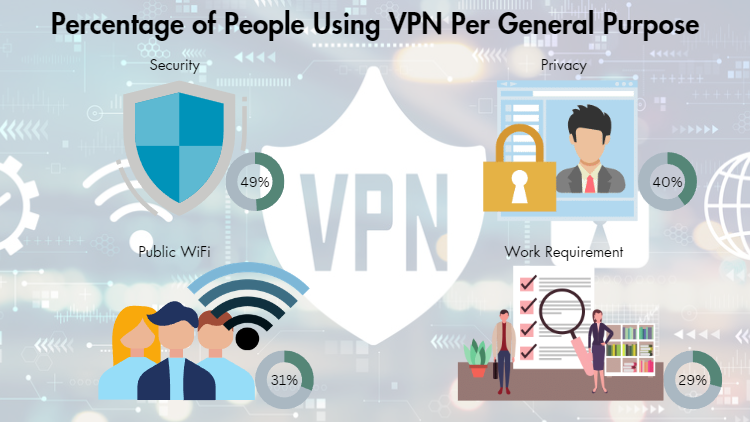 | | |
| --- | --- |
| General Purpose | Percentage |
| Security | 49% |
| Privacy | 40% |
| Public WiFi | 31% |
| Work Requirement | 29% |
According to Freedom House,5 internet freedom is a key reason why people use VPNs and strongly informs where VPNs are used, namely in which countries they are being used and the amount of people using them.
For instance, Indonesia is known as one of the largest users of VPNs in the world, as are countries in the Middle East where there may be social and legal restrictions regarding internet usage, such as limitations or outright bans of pornography or political and ideological communication.
How Are People Using VPNs? Device VPN Use
People are using VPNs in a whole host of ways, and also via a wide range of devices. So you may be asking – what devices do people use VPNs on? By 2020, smartphone owners accounted for the largest number of VPN users, followed closely by owners of desktops/laptops, according to Top10VPN.6
Their survey shows the distribution of VPN users as follows: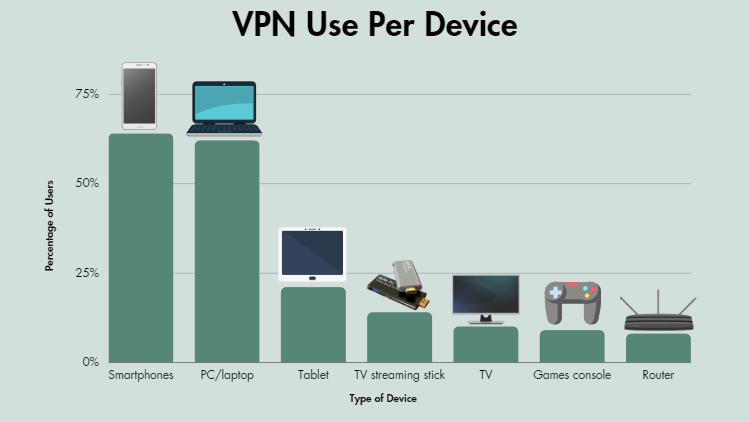 | | |
| --- | --- |
| Type of Device | Percentage |
| Smartphones | 64% |
| PC/laptop | 62% |
| Tablet | 21% |
| TV streaming stick | 14% |
| TV | 10% |
| Games console | 9% |
| Router | 8% |
Statistica.com found varied motivators for using VPNs for mobile vs. desktop users.7
However, all user types were primarily motivated by better access to entertainment and other personal usages.
Cloudwards also suggests a similar priority given to entertainment.8 Both sites. Statistica.com and Cloudwards, suggest that this may be motivating roughly half of all VPN users.
How VPNs are used should also be analyzed from the lens of whether it is for private or business use. According to a Security.org report,9 VPNs are used 29% for personal use, while business use accounts for 24%. 15% of users utilize VPNs for both business and personal use.
Forbes suggests the distribution of internet usage is a bit different.2 According to the business magazine, 77% of VPNs are used for personal reasons, while 50% are used for business.
VPNs are also used for gaming. This has its own unique advantages, such as wider access to the gaming library, using public wifi for gaming when there may be restrictions in place, privacy protection from multiplayer games, and countering internet service provides (ISPs) that tend to slow down the internet because of gaming.
Similarly, VPNs can be used for streaming, as you can avoid region blocks to specific content, and thus gain access to a wider selection. If there is a bandwidth overload problem due to a region, a VPN can also help with buffering lag.10
VPN Statistics: Reason For Use
VPN usage trends observed in surveys paint a picture of massive increases in VPN usage over the last decade. The available VPN statistics suggests that of the almost 8 billion people on the planet, about 5.4 billion use the internet, and of those users, around 1.6 billion people use a VPN.11, 12
This means that about 30% of internet users worldwide use a VPN – in case you are wondering how common are VPNs, very, very, common!
VPN usage statistics for 2022 suggest the following top 10 reasons for usage, based on Security.org research:9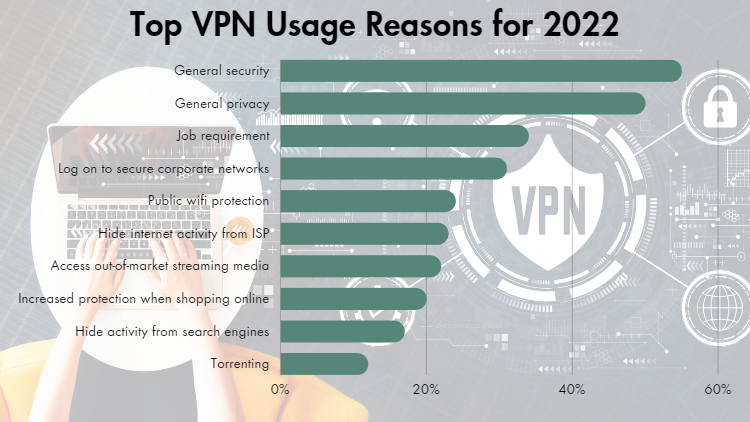 | | |
| --- | --- |
| Reasons for Usage | Percentage |
| General security | 55% |
| General privacy | 50% |
| Job requirement | 34% |
| Log on to secure corporate networks | 31% |
| Public wifi protection | 24% |
| Hide internet activity from ISP | 23% |
| Access out-of-market streaming media | 22% |
| Increased protection when shopping online | 20% |
| Hide activity from search engines | 17% |
| Torrenting | 12% |
The above VPN cybersecurity and privacy statistics indicate that these remain the main concerns of consumers.
Regarding free users, Gitnux suggests that of the 51.4% of users using free software, 84% "leak data," with the caveat of these being Android users.13 As a VPN, that doesn't seem very secure, at all.
Global VPN Market Statistics
The VPN market is a burgeoning multi-billion-dollar industry. The value of the market was $44.6 billion in 2022 and is likely to grow to $137.7 billion by 2030, according to StrategyR.14
The US market is estimated to be worth $16.5 billion, while the Chinese market may reach $21.5 billion by 2030. The Asia-Pacific region, excluding China, is estimated to reach $14.6 billion by the same date.
According to Gitnux,13 India is currently the largest VPN market on Earth, valued at over $11.6 billion. That's larger than the Chinese and Indonesian markets, which are worth $9.9 billion and $4.14 billion respectively.
There clearly are global VPN usage trends indicating a rising usage in the Asia-Pacific region.
Japan (0.71%), Thailand (1.29%), and Nigeria (1.84%) have, for some weird reason, the lowest VPN adoption in the world.15 One might expect it to be higher, which suggests there might be some idiosyncratic variable at play in those countries.
Meanwhile, in North Korea, Belarus, Turkmenistan, and Iraq, VPNs are outright illegal; usage is pretty low in those parts, for obvious reasons.
How Frequently Do People Use VPNs?
A survey by Top10VPN revealed the frequency of VPN usage below, and the data is a bit counterintuitive.16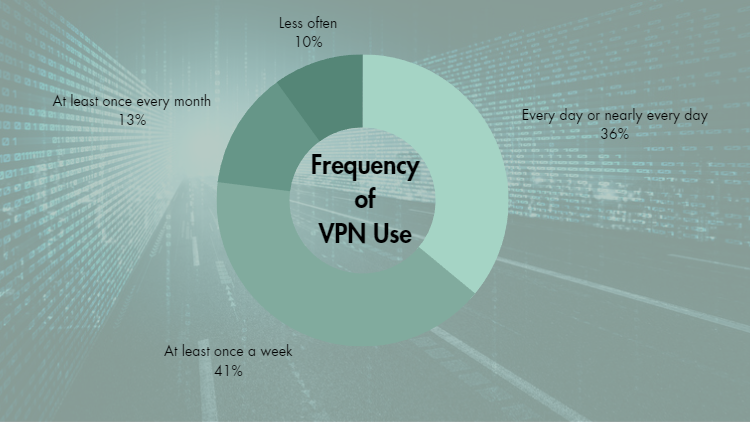 | | |
| --- | --- |
| Frequency | Percentage |
| Every day or nearly every day | 36% |
| At least once a week | 41% |
| At least once every month | 13% |
| Less often | 10% |
More than 40% use VPNs at least once a week, and more than 1-in-3 use it every day. Together, this accounts for almost 80% of all VPN users.
The data indicates that a large portion of people use VPNs for security and privacy, and another portion to avoid content blocks.
How Many People Use a VPN? How Many People Use VPNs in USA?
According to Cloudwards,8 there were 142 million people using VPNs in the U.S., as of 2022. Worldwide, approximately 1.6 billion people use a VPN.12
Where People Use VPNs
Security.org says that people use VPNs in every state, and the usage distribution is generally even and not skewed to any particular state.4
Forbes cites a survey finding that 66% of Americans have used a VPN at some point in their lives, although the outlet gives a caveat that the figure is likely inflated.2
Which Country Uses VPNs the Most?
Around the world, people and companies use VPNs. But, the user base is a lot higher in specific countries, such as India, China, Indonesia, and the United States.
According to Top10VPN,6 for February 2020, usage by country is broken down by the following table for the top 30 countries in the world that use VPNs.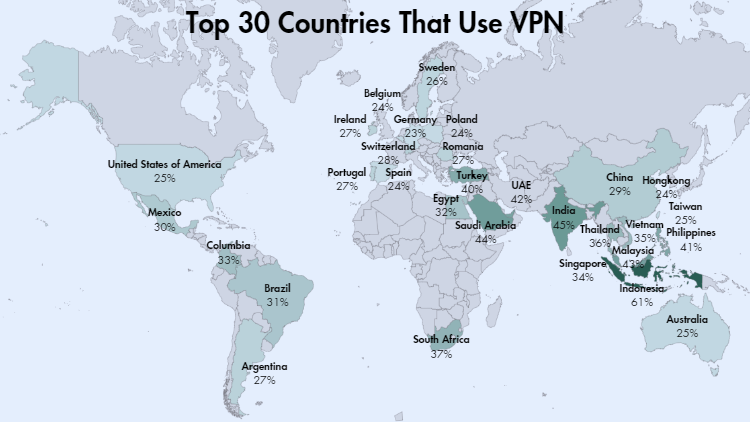 | | |
| --- | --- |
| Country | Percentage |
| Indonesia | 61% |
| India | 45% |
| Saudi Arabia | 44% |
| Malaysia | 43% |
| UAE | 42% |
| Philippines | 41% |
| Turkey | 40% |
| South Africa | 37% |
| Thailand | 36% |
| Vietnam | 35% |
| Singapore | 34% |
| Colombia | 33% |
| Egypt | 32% |
| Brazil | 31% |
| Mexico | 30% |
| China | 29% |
| Switzerland | 28% |
| Argentina | 27% |
| Portugal | 27% |
| Ireland | 27% |
| Romania | 27% |
| Sweden | 26% |
| Taiwan | 25% |
| Australia | 25% |
| U.S.A. | 25% |
| Hong Kong | 24% |
| Spain | 24% |
| Belgium | 24% |
| Poland | 24% |
| Germany | 23% |
The Global Web Index (GWI) also provides statistics on country usage that has widely circulated on the internet, however, the numbers are from older data dating back to 2018.16 Post-pandemic, they are borderline irrelevant.
The Global VPN Adoption Index from AtlasVPN provides the most recent data, pulling numbers from 2022, but the data seems to focus primarily on VPN adoption rates rather than usage rates.15
According to AtlasVPN's data, in 2022, there were 353 million downloads of VPNs with the highest adoption rates happening in the United Arab Emirates (43.18%), Qatar (39.2%), and Singapore (37.11%). This makes a lot of sense because the governments of those countries are extremely repressive.
However, these measurements reflect a per capita measurement of populations that are small compared to other nations. UAE and Qatar are extremely small countries relative to India and the United States, so it's a mixed bag regarding how useful this data is for building a picture of where VPN adoptions are headed worldwide.
A Brief History of VPN Services
The tech behind VPNs can actually be traced back to the late 70s and 80s,17 when virtual circuits were first invented.
Essentially, a virtual circuit creates a path from one port to another. Conceptually, this can be imagined as a pipe that connects multiple computers to each other, allowing information and content to be shared between the various computers.
The worldwide Public Switched Telephone Network (PSTN), a system in which users had simultaneous access, was managed even before the internet.18
Networking evolved with time to become increasingly more sophisticated, utilizing encryption for data security, and the ability to add locations using the internet.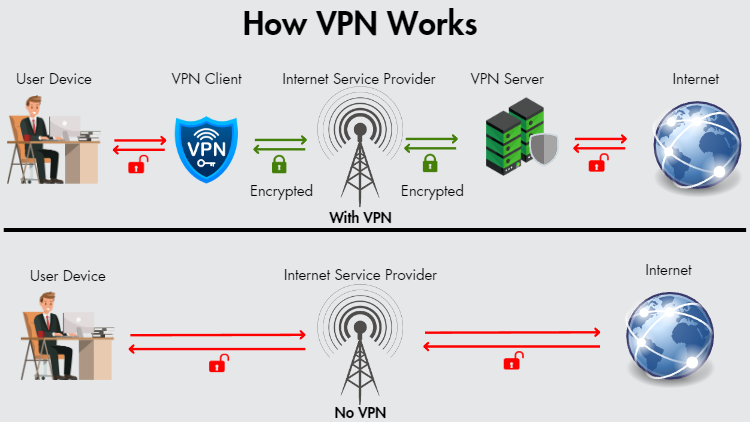 The concept of the intranet can be traced even further back, to PLATO (Programmed Logic for Automatic Teaching Operations),19 which among other features provided the platform for multiple users to interact with each other using message boards, email, chat, and even multiplayer games (among other things).
Ray Ozzie, a member of the PLATO development team, started Iris Associates and eventually developed Lotus Notes in 1985 as the first groupware and collaborative application.20 Intranets became mainstream around 1996, both in corporate use and in academic literature.
An Intranet is a private version of the internet, limited to an organization. Sometimes this limit pertains to a physical location, and at other times, using VPN technology, it extends itself to a wider group, including remote workers, who can access the network even when not physically present at the organization's location.21
It's true that VPNs and related technologies and concepts have been around for a while, but it wasn't until the 2010s that VPNs became commercially available. And really, it wasn't until the pandemic that the market saw serious growth. And by serious growth, we're talking about exponential, off-the-charts, flight into outer space VPN growth.
VPN Use During Stay At Home
When facing a global crisis,22 the world went into a crisis mode, itself impacting VPN usage.
Billions of people suddenly could not go to work, or move about freely in public. As a result, a massive demand arose for remote working and, subsequently, remote entertainment.
In a matter of weeks, broadband usage increased by double digits. New streaming services were popping up left and right.
Subscriptions to these services and new subscriptions to the pre-existing streaming services (Netflix I'm looking at you) also saw huge usage increases in the double digits.
On the business side, corporations, following guidelines of their respective governments, scrambled to set up the infrastructure for their workforces to work remotely. All of this, the rapid increase of business and private engagement on the internet, meant an absolute explosion of VPN usage.
How Many People Use VPNs in the United States?
This rise in VPN usage is indicated in the below data for the United States, from a VPN usage survey:23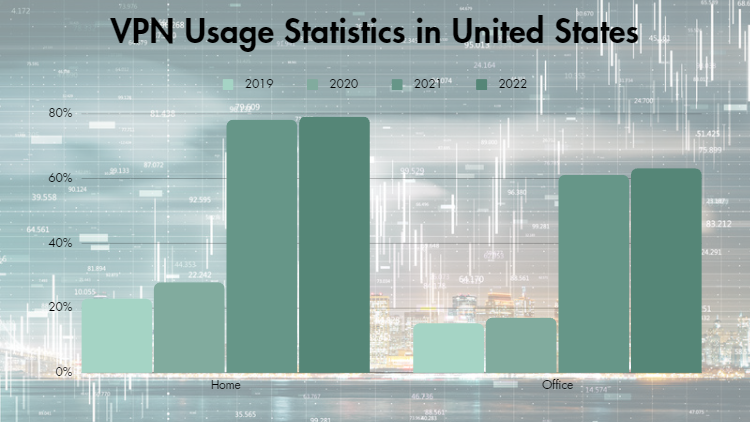 | | | | | |
| --- | --- | --- | --- | --- |
| | 2019 | 2020 | 2021 | 2022 |
| Home | 22.9% | 27.9% | 78% | 79% |
| Office | 15.3% | 17% | 61% | 63% |
Clearly, VPN usage has increased significantly since 2019.
It seems like American users choose VPN as a luxury item because they can afford it and they are privacy conscious, although they don't face any real risk like a person might face in Iran or China.28, 29
Meanwhile, in various other countries, people where you might expect VPN usage to be high, it isn't. It could be that people aren't worried about political persecution, or perhaps there aren't any popular and affordable options yet.
In the short-term, that is likely to change because VPN providers are popping up everywhere due to the demand for privacy and security. In general, despite some bad actors, the proliferation of VPN usage seems like an important trend that protects users on the internet.
Does the Average Person Need a VPN?
Well, maybe not everyone needs a VPN. It all depends on your circumstances.
If general privacy and security are the only concerns, VPNs may help, but according to Consumer Reports,24 they may also not be the most important step for the average consumer.
However, there are cases where a VPN becomes vital. For example, if you are attempting to access a website that doesn't allow connections from your country, or vice versa, your country doesn't allow you to access a website.
A less drastic scenario could be that you are using the internet from a cafe's wifi, and you don't want the owner of the wifi to know what kind of porn or news or fake news you are watching.
Is VPN a Waste of Money?
Whether a VPN is a waste depends on who is asking and who is answering.
In easy terms: if you really value your privacy, VPNs are a must-have.
If concealing your IP is an essential part of your presence online, there is no practical option other than a VPN. If not, it all depends on the particular use case.
Again, if you use the internet via public wifi, it may just be wiser to use a VPN as you don't know who is checking you out, and what they could do with your info.
But the question is not always whether a VPN is a waste of money or not, as sometimes you may be using a free VPN, so the game theory results vary.
Do Most People Pay for VPNs?
According to a survey by Security.org,9 47% of VPN users utilize a free VPN service. The table below illustrates VPN user distribution from the same survey based on cost: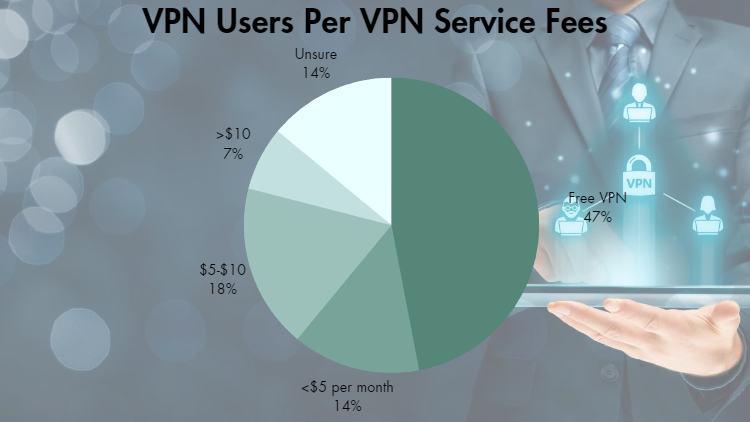 | | |
| --- | --- |
| Cost | Percentage |
| Free VPN | 47% |
| <$5 per month | 14% |
| $5-$10 | 18% |
| $10 | 7% |
| Unsure | 14% |
So it seems that 39% of VPN users do, in fact, pay for a VPN, perhaps even more if some of the users who are unsure can be included. But, why pay for a VPN when you can get your company to foot the bill?
According to Forbes, 24% of VPN users have their employer paying the tab for VPN use.2
How To Check if Your VPN Is Working
Okay, so exactly how to check if your VPN is working – Turn off your VPN and search for your IP address (for instance by using Google). Note the IP address.
Now, turn on the VPN and repeat.
If the IP addresses are different, you're in business, and the VPN works! If not, something is broken…
How To Use Omegle With a VPN
Omegle is a fun app where you randomly video chat with someone.
So you want to know how to use Omegle with a VPN: the workaround is to use a VPN, and hopefully, the VPN has a server in a country where access is not blocked. So, just find a VPN that has a server that isn't blocked on Omegle; should be relatively easy as the majority of servers aren't.
If either the country or your organization is blocking Omegle, VPN may be the only way to gain access.
Company VPN: What Can They See?
Legally speaking, employers do have the right to monitor company-owned computers, which a VPN can mitigate, although not entirely.
Employers, however, do not have the right to spy on your personal life. At the same time, we must be careful doing personal activities at work.
Also to note: your browser history is already stored. Even if you use a VPN, the computer will still store that information.
So, to the question, "Company VPN, what can they see?" the answer is either a lot, a little, or everything, depending on how you handle it.
The trends indicate that the answer to the question, how many people use VPNs is steadily increasing.
Is There a VPN Carbon Footprint?
Internet usage causes 3.7% of greenhouse gas emissions worldwide.26 Since VPNs also use computing power, servers, energy, buildings, etc, their greenhouse effect is part of that number, and thus the answer to "Is there a VPN carbon footprint?", the answer is a resounding YES.
The gas emissions of VPN use are substantial, although less significant than the emissions of other hardware. In the business world, a VPN is but one piece of an elaborate puzzle that corporate data centers use to provide secure access for their employees.27
All of the other components, firewalls being one of the main culprits, create more emissions than VPNs.
How many people use VPNs is a question that varies depending on the conditions, but likely the numbers will continue to grow.
Frequently Asked Questions About How Many People Use VPNs
Can Police Track VPNs?
Despite their best efforts, police agencies can't track your VPN directly, but your ISP can easily tell if you are using a VPN and the IP address associated with that VPN. With that information and a court order, the police can ultimately track your web traffic.
Does a VPN Use a Lot of Data?
According to NordVPN,25 the fact that VPN traffic is encrypted means that you do end up using more data, but not a crazy amount more than if you went without. Depending on the protocols used, the increase in data can range from 4%-20%.
How Commercial VPNs Work?
Commercial VPNs work similarly to consumer VPNs, but with the former, the user is connected to a remote server that acts as an intermediary between the user and the wider internet.
How Do Peerblock vs VPN Compare?
Essentially, PeerBlock is a personal firewall, with black-listed hosts. This stops those specific hosts from observing your traffic; it doesn't hide your IP address like a VPN.
References:
Bay Atlantic University. (2020, June 1). Characteristics of Big Data: Types, & Examples. BAU | Bay Atlantic University. Retrieved May 16, 2023, from https://bau.edu/blog/characteristics-of-big-data/
Crail, C., & Main, K. (2023, February 9). VPN Statistics And Trends In 2023. Forbes ADVISOR. Retrieved May 16, 2023, from https://www.forbes.com/advisor/business/vpn-statistics
Main, K., & Watts, R. (2023, March 10). Just 54% Of VPN Users Feel Protected Online—But Is That Optimistic Or Pessimistic? Forbes ADVISOR. Retrieved May 16, 2023, from https://www.forbes.com/advisor/business/business-vpn-users-safety
Vigderman, A., & Turner, G. (2023, January 31). 2023 VPN Usage Statistics. Security.org. Retrieved May 16, 2023, from https://www.security.org/vpn/statistics/
Freedom House. (2021, February 12). Indonesia: Freedom on the Net 2019 Country Report. Freedom House. Retrieved May 16, 2023, from http://freedomhouse.org/country/indonesia/freedom-net/2019
Migliano, S. (2020, March 17). Global VPN Usage Statistics in 2020. Top10VPN. Retrieved May 16, 2023, from https://www.top10vpn.com/research/global-vpn-usage-statistics/
Petrosyan, A. (2022, July 7). Leading motivations for VPN usage worldwide as of 1st quarter 2018, by device. Statista. Retrieved May 16, 2023, from https://www.statista.com/statistics/529338/main-vpn-usage-reasons/
Kochovski, A. (2022, August 23). The Top 25 VPN Statistics, Facts & Trends for 2023. Cloudwards. Retrieved May 16, 2023, from https://www.cloudwards.net/vpn-statistics/
Security.org Team. (2023, February 10). 3rd Annual VPN Market Report: 2022. Security.org. Retrieved May 16, 2023, from https://www.security.org/resources/vpn-consumer-report-annual/
McCann, M., & Watts, R. (2023, March 3). What Is A VPN Used For? 9 VPN Uses In 2023. Forbes ADVISOR. Retrieved May 16, 2023, from https://www.forbes.com/advisor/business/software/why-use-a-vpn/
Welch, C. (2022, November 20). Earth now has 8 billion people—and counting. Where do we go from here? MAHB. Retrieved May 16, 2023, from https://mahb.stanford.edu/library-item/earth-now-has-8-billion-people-and-counting-where-do-we-go-from-here/
Klimas, M. (2023, February 8). VPN statistics: users, markets, & legality. Surfshark. Retrieved May 16, 2023, from https://surfshark.com/blog/vpn-users
Gitnux. (2023, March 21). VPN Statistics 2023: Interesting Data and Facts. Gitnux. Retrieved May 16, 2023, from https://blog.gitnux.com/vpn-statistics/
Global Industry Analysts, Inc. (2023, January). Virtual Private Network (VPN) – Market Study. StrategyR. Retrieved May 16, 2023, from https://www.strategyr.com/market-report-virtual-private-network-vpn-forecasts-global-industry-analysts-inc.asp
Atlas VPN. (2023). Global VPN Adoption Index. Atlas VPN. Retrieved May 16, 2023, from https://atlasvpn.com/vpn-adoption-index
Global Web Index. (2019, April 9). VPN Users Around the World. GWI. Retrieved May 16, 2023, from https://www.gwi.com/hubfs/Downloads/VPN_Usage_Around_The_World.pdf
Jyothi, K. K., & Reddy, B. I. (2018, June 20). Study on Virtual Private Network (VPN), VPN's Protocols And Security. Research Gate. Retrieved May 16, 2023, from https://www.researchgate.net/profile/B-Indira-Reddy/publication/368831275_CSEIT1835225_Study_on_Virtual_Private_Network_VPN_VPN's_Protocols_And_Security/links/63fc6eab0d98a97717bfd793/CSEIT1835225-Study-on-Virtual-Private-Network-VPN-VPNs-Protocols-And-Sec
Ferguson, P., & Huston, G. (1998, April). What is a VPN. Geoff Huston. Retrieved May 16, 2023, from https://uh.edu/tech/cisre/resources/ia-resources/_files/7033/Week7/vpn2.pdf
University of Illinois. (2023). PLATO. Illinois Distributed Museum. Retrieved May 16, 2023, from https://distributedmuseum.illinois.edu/exhibit/plato/
White, M. (2017, May). A History of Intranets. Intranet Focus. Retrieved May 16, 2023, from http://intranetfocus.com/wp-content/uploads/2017/05/A-History-of-Intranets-Intranet-Focus-May-2017.pdf
New World Encyclopedia. (2023). Intranet. New World Encyclopedia. Retrieved May 16, 2023, from https://www.newworldencyclopedia.org/entry/Intranet
Share, M. (2021, July 14). COVID-19: The Pandemic That Swept the World: Its Political and Economic Effects on Human Security. Kent State University. Retrieved May 16, 2023, from https://www-s3-live.kent.edu/s3fs-root/s3fs-public/file/5-Michael-SHARE-2021.pdf?VersionId=n1IsYDnsaNlFn1aoDRVwo1sOCZKhwcss
Sava, J. A. (2020, September 12). Virtual private network (VPN) usage in the United States from 2019 to 2022, by location. Statista. Retrieved May 16, 2023, from https://www.statista.com/statistics/1291880/vpn-usage-in-the-us
Grauer, Y. (2021, December 7). Should You Use a VPN? CR | Consumer Reports. Retrieved May 16, 2023, from https://www.consumerreports.org/vpn-services/should-you-use-a-vpn-a5562069524/
Whitmore, C. (2023, March 30). Does a VPN use data? NordVPN. Retrieved May 16, 2023, from https://nordvpn.com/blog/vpn-data-usage/
Álvarez, D. M. (2020, June 8). Digital sustainability audits: a de facto standard for the Internet carbon footprint. UOC | Universitat Oberta de Catalunya. Retrieved May 16, 2023, from https://openaccess.uoc.edu/bitstream/10609/116446/6/dmonTFM0620memory.pdf
Spiegel, J. (2022, September 23). The hidden environmental costs of VPN gateways. SECURITY. Retrieved May 16, 2023, from https://www.securitymagazine.com/articles/98381-the-hidden-environmental-costs-of-vpn-gateways
Central European University. (2013, April 9). Supreme Efforts at Internet Censorship in Iran. CEU | Central European University. Retrieved May 16, 2023, from https://www.ceu.edu/article/2013-04-09/supreme-efforts-internet-censorship-iran
King, G. (2017). Chinese Censorship. GARY KING | Harvard. Retrieved May 16, 2023, from https://gking.harvard.edu/category/research-interests/applications/information-control-by-authoritarian-governments